Professional Bathroom Refurbishment
Having a bathroom refurbished can be a simple, painless task, as long as you hire the right team for the job. A high-standard contractor is needed in order to ensure the end result is a well-fitted, visually appealing bathroom.
Professional Bathroom Refurbishment: What's involved?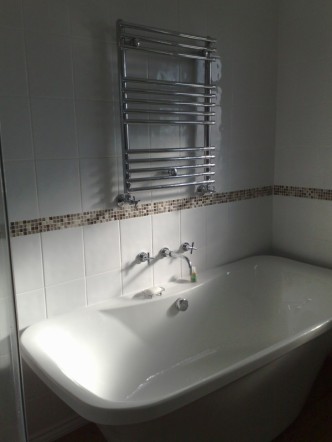 There can be many factors involved in refurbishing a bathroom, depending on how much work you want done. In the initial planning phase, the following are some sugestions to consider:
Tiling
Electrical work
Plastering
Cloakrooms
The overall design
Before we get to work, it's best to go into further detail, and consider the following aspects too:
Bath/cubicle design
Shower type
Electrics and lighting requirements
Plastering requirements
Tiling requirements (floor and walls)
Vanity unit requirements
Toilet type and requirements
If you would like more information on what to look for when hiring for professional bathroom refurbishment, take a look at our guide to hiring bathroom fitters.
SP Taylor: Professional Bathroom Refurbishment
S.P Taylor are an experienced, established firm offering high-quality bathroom refurbishment at a great price. We are happy to help you get your dream bathroom sorted. We specialise in creating a new, designer bathroom while keeping the price affordable. Our services are carried out by some of the best bathroom refurbisment tradesmen in the region. Our team will organise everything from the top down; spotlights, plastering and even tiling will be sorted by us. We will always make sure you are fully aware of any costs, and any time or legal requirements needed to complete the job. Feel free to have a look at our testimonials page to see what people think of our work!
Contact us now for professional bathroom refurbishment services
Whether you are looking for a full re-do, a new shower, or simply a basic repair job, please don't hesitate to contact us.